Brief: Conceptualize a pavilion at The Munk School of Global Affairs, Toronto, ON, Canada- whose form adheres to a verb: Encircle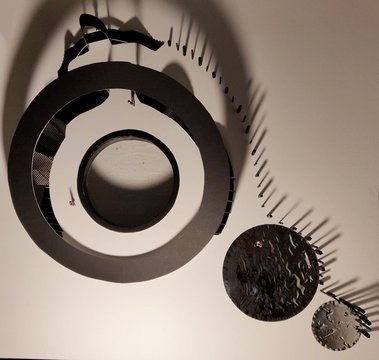 The aerial view portrays an elaborate thought or dialogue bubble while the wave tucked in between the ground and the ring impersonates the transfer of philosophy and wisdom.
Collaboration of organic lineation weaving through the bold geometric shapes signifies the variation and depth of academic nature.
West facing such that it retains a mysterious quality to any outside the premises and draw them in, it also adheres to the rising sun so the light cast underneath through the glass-bottomed-pond is uninterrupted and plenteous during daytime. To account for seasonal changes during July-December, be it light, crispy leaves or wispy snow, all subsequently add texture to the reflection.
The steps to enter always reflects the sky above, adding a sublime aspect to the monotony of regular life. Wooden posts that indicate direction, is placed with varying breaches to allow for seamless pass-through between the school and the pavilion.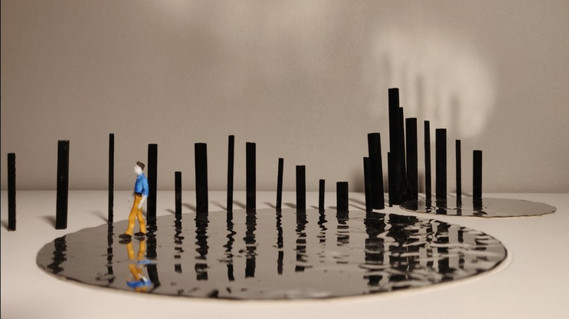 Each of the crests and troughs of the wave allows for seating and relaxation, tending to both groups or individuals who visit the food arc or visit to interact. It also opens to the pond, that allows an onlooker to glimpse below. On the sides are the cut sections of ground, wherein from the lower level is accessed.
The mood as one enters below resonates with calm and peaceful, a space completely detached from world above. It is dark and soothing as most sections are mirrored on the rails with soft spot lights glowing on the ground. The ceiling is centrally the base of the pond and right below it sits a shiny grand black piano for evening performances (though also accessible to visitors).
Whether to delve into contemplation or simple be encircled by the lull of the piano keys, is the visitor's pick.